The Hodgepodges by Laceface
Laceface is Anne-Lise's oldest and most mysterious cello playing friend. Although the two have never actually been seen together, it's probably because Laceface is a weirdo and Anne-Lise enjoys the reclusive life. Anne-Lise assists the technically challenged Laceface to release her Hodgepodge recordings via Bandcamp. Hodgepodge is the series of 20 minute plus multi-track/song recordings of original cello music by Laceface, which began in October 2016. Click on the links below to listen to or purchase.
---
Yes, let's… by LL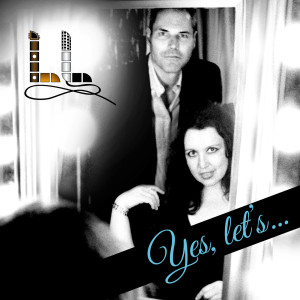 Yes, let's… by LL. A new 12 track CD of jazz standards and originals by Anne-Lise Larsen and Scott Leishman
12 track album (CD & Digital)
December 2015
CDs can be purchased at gigs
or search for "LL Yes let's…" at iTunes, Amazon and CD Baby
TRACK LISTING:

'Deed I Do
Agua de Beber
It Had To Be You
Impossibly You
You go To My Head
'S Wonderful
Dream A Little Dream
Fine and Mellow
Just One Of Those Things
Body and Soul
Sapphire Tango
Where Or When
Proudly independent. Larsen/Leishman © 2015.
In Lounge-O-Scope by Machiniso
4 track EP
January 2012
Also at iTunes, Amazon and CD Baby
As a four track EP, Machiniso's jazz based first-release has been followed up with a stripped back quartet playing live in the studio. The strong vocals from songwriter Anne-Lise Larsen complement the panoramic sounds emitting from Dave Smith's vibraphone. Captured to hard disk by Jeff Lee of Zen Studios, St Peters, Australia, it is crisp, punchy and soaked in the fine electric bass playing from the string master himself, Scott Leishman.
It is rare to find music like this from Sydney, let alone the rest of Australia. Indeed, as jazz becomes increasingly marginalised through out the world, the cinematic moodiness and snappy grooves on this album make it a tribute to the black humour of storytelling in song form.
TRACK LISTING:

Hexotica
The Weather (Larsen)
Lil Lethal Blues
Vampire Jazz
Proudly independent. Machiniso © 2012.
 The Weather (Mad Mad Mad Remix)
Single (Mad Mad Mad Remix)
January 2011
Available in the shop
Also at iTunes, Amazon and CD Baby
You might also be interested in The Weather Chord Sheet
The Weather was already Anne-Lise's most danceble track on her 2009/2010 album, Planets Aligned, but now it's been given the French House European Pop treatment that Anne-Lise has held so dear. "I've always loved dance music. I grew up in the 80s, loving the extended versions of songs by Duran Duran, Dead Or Alive, Sylvester, Divine and Grace Jones. So, I thought it was about time to do one myself and that's exactly what I've done!" she says, on the release of her first (of many she hopes) extended dance mix, The Weather (Mad Mad Mad Remix).
TRACK LISTING:
1. The Weather (Mad Mad Mad Remix) 7:24
Proudly independent. Anne-Lise Larsen © 2011.
Planets Aligned
Album (CD & Digital)
October 2009
Available in the shop
Also at iTunes, Amazon and CD Baby
There are times in life when it all seems to come together…the moments, good and bad, that leave an indelible impression on your soul forever. These are the times we say, the Planets Aligned
Planets Aligned explores themes of personal reflection, dissecting relationships, shattered illusions and the resolution of such with the discovery of new lust, love and finally contentment.
Planets Aligned is full of silky masterful lead vocals and backing vocals with a rich layering, reminiscent of 70s soul and disco. Anne-Lise has made full use sound textures, with sweeping string synthesizers, a traditional Fender Rhodes, exotic percussion, beat driven melodic bass lines and a mixture of traditional pop funk style drumming and dance drum loops. Planets Aligned is an album for those who crave passion, human emotion, musicianship, melody and power in their music with a big nod to the open genre feel of the 1970s.
TRACK LISTING:
1. Rest Of My Days
2. Birds Still Fly
3. A Little Dissonance
4. That's The Way It Used To Be
4. Felt So Good
6. The Weather
7. Could You Be The One (I've Been Looking For)?
8. The Dream
9. Itty Bitty Love Ditty
Proudly independent. Anne-Lise Larsen © 2009.
I'm Alive
EP (CD & Digital)
July 2006
Available in the shop – three remastered mp3s from I'm Alive
Also at iTunes, Amazon and CD Baby
Released in 2006, the title of Anne-Lise Larsen's four-track EP, I'm Alive, is an affirmation of arrival and survival in the music world.
"I'm Alive" was entirely written, composed, arranged and performed by Anne-Lise, and recorded and produced in her studio.
Belying its one-woman origins, I'm Alive appeals to a wider, shared experience, exploring tales of love, loneliness, the pursuit of dreams and the seduction of envy.
TRACK LISTING:
1. Back Where She Began
2. Seize the Day
3. Cold Cold City
4. I Just Wanna Be Rich
Proudly independent. Anne-Lise Larsen © 2006 + Glamaphonic™.